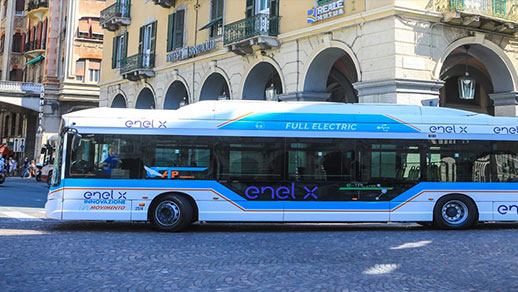 Enel X – E-bus service in Savona, Italy
Enel X – E-bus service in Savona, Italy
The pulse of the smart city
Electric Public Transportation
Zero-emissions mobility for sustainable cities
Electric public transport is the pulse of a smart city and, as the world moves closer and closer to an eco-friendly circular economy, the transition to and implementation of sustainable public transport infrastructure is essential to the city of today and the future. Enel X's innovations in e-Mobility have already begun to foster the transition towards electric public transport in our towns and cities.  Enel X sets the example in the e-Mobility sector with an innovative project that was developed and tested in Italy.
A case study in Savona
In July 2020, Enel X ushered in an unparalleled event in public transport sustainability – trialing a full electric zero-emission bus in Savona, Italy. Along the stretch of the Ligurian coast between Finale Ligure and Varazze, residents and tourists experienced, at no charge, the comfort of sustainable public transport via the IVECO BUS e-Way.  A holistic partnership between local governmental and transport authority, IVECO BUS company, University of Genova's Savona campus and Enel X resulted in energy efficient solutions that demonstrate how collaborations of this kind foster smart city sustainable development to meet the 2030 Agenda goals established by the UN.
Enel X identified a savings of 3.4 million euros annually if a Local Public Transport company (TPL) were to replace 100 worn-out diesel buses with 100 new e-buses. Energy costs were even further reduced when incorporating new bus depot systems, which also decreased energy consumption by 40%. E-Mobility is a key factor in achieving these milestones globally and Enel X remains a leader for public and private businesses.
The electric bus paves the way for smart cities
Enel X works with local municipalities in assessing their transportation needs while simultaneously developing sustainable solutions to reduce energy consumption with electric public transport options. Drawing from its extensive experience in developing e-Mobility solutions for the private sector, Enel X has applied these same principles in developing a fleet of electric vehicles that offer multiple eco-friendly benefits.
Comprehensive solutions must be implemented in order to support public transport companies in their energy transition.
Integrated technology, including the development of an e-bus service, paves the way for greener transportation. Enel X understands the complexity of the situation for local governments and recognizes that the answer is not an easy quick fix by simply substituting electric buses for older modes of transport.
Enel X provides an integrated approach, whether through electric mobility strategy development, design and installation of charging infrastructures for electric vehicles or the digitization of systems in order to properly maintain and manage smart public transport for the long-term.
Commitment to the future
As a committed partner in achieving the UN's 2030 Sustainable Development Goals (SDGs), Enel X has identified the need to offer a full comprehensive plan for cities and their public transport systems.
Energy-efficient solutions are necessary at all touch points, including smart bus stops, energy upgrades for bus stations, intelligent technology to supply the network's vast infrastructure such as via smart screens and sensors, photovoltaic solar panels, charging stations for e-bikes and smartphones, as well as increased safety and security via video monitoring of mobility flow.
Our Commitment
We are leading the change, accelerating the energy transition
Innovation in e-Mobility
Electric Mobility
Leading the global transformation in the way you move
The continuous innovation of e-Mobility, in collaboration with the public and private sector, contributes to a cleaner urban environment that provides greater functionality to city dwellers. Reduced energy consumption also translates into lower energy costs.
By implementing e-Mobility projects such as Savona, energy savings are notable. Enel X is steadfast in its commitment to offering sustainable mobility solutions which have zero environmental impact.