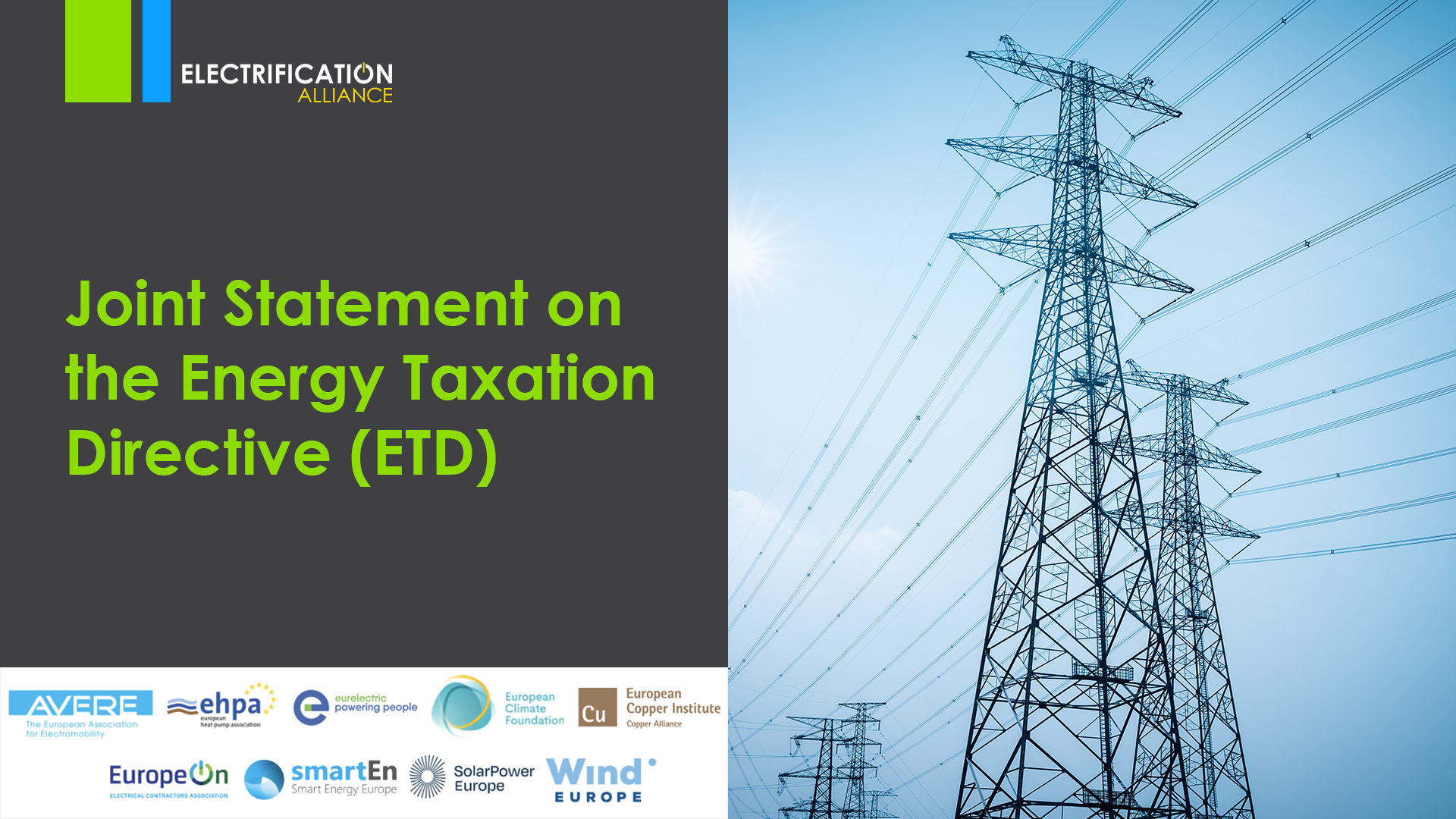 Joint Statement on the Energy Taxation Directive (ETD)
Joint Statement on the Energy Taxation Directive (ETD)
Brussels, March 24, 2023
To:
[attaché name]
Permanent Representation of [Member State] to the European Union
The Electrification Alliance is heartened to see the progress made by the Czech Presidency in reaching a first compromise text on the Energy Taxation Directive (ETD), which clarifies the tax exemption of energy inputs for production, maintenance, and storage of electricity; the removal of the possibility of double taxation on energy used to provide flexibility to the system before its end-use; and the exemption for self-consumption from being considered a chargeable event. We are encouraged to see that the Swedish Presidency is continuing the important work of the negotiations. However, many other measures are needed to ensure the ETD matches the ambition of the rest of the Fit for 55 package.
Taxes & levies accounted for 41% of the average household electricity bill in 2021[1], and reducing taxes can alleviate some of the burden customers are experiencing with the ongoing energy price crisis. Taxation remains a critical incentive scheme available to structure the direction of the energy transition. While we recognise that excise tax is a small piece of the overall energy taxation puzzle, it plays an important role in signalling which energy sources are prioritised for the ongoing energy transition. Beyond this, consumers' decisions are largely influenced by how energy is taxed, from domestic consumers – when for instance, deciding to opt for a heat pump – to big industries renewing their production process presently based on fossil fuels.
We would like to recall our concrete recommendations to reinforce the ETD's support for decarbonisation through the electrification of the system:
Maintain the Commission's proposal, which focuses on content-based taxation, specifically the proposal which ranks electricity among the lowest taxed energies.
To ensure no possibility for double taxation on energy products, include explicit references in the legislation that the scope of the legislation only applies to the output of energy on its final consumption.
Taxes are a key economic factor for decarbonisation through electrification, and Member States are responsible for sending a clear signal through their taxation of the importance of electrifying, and thereby decarbonising, the wider European economy. We, therefore, encourage the Council to keep the ETD firmly on its agenda and prioritise finding a compromise agreement which aligns well with the decarbonisation goals set in the rest of the Fit for 55 package.
We remain available to you to discuss any of these points in further detail.
AVERE – the European Association for Electromobility, the European Heat Pump Association, Eurelectric, the European Climate Foundation, the European Copper Institute, EuropeOn – The European Association of Electrical Contractors, the Renewables Grid Initiative, smartEn – smart Energy Europe, SolarPower Europe and WindEurope
---
[1] https://powerbarometer.eurelectric.org/home2021/