Electrification is the core of any sustainable decarbonisation strategy
Electrification is the core of any sustainable decarbonisation strategy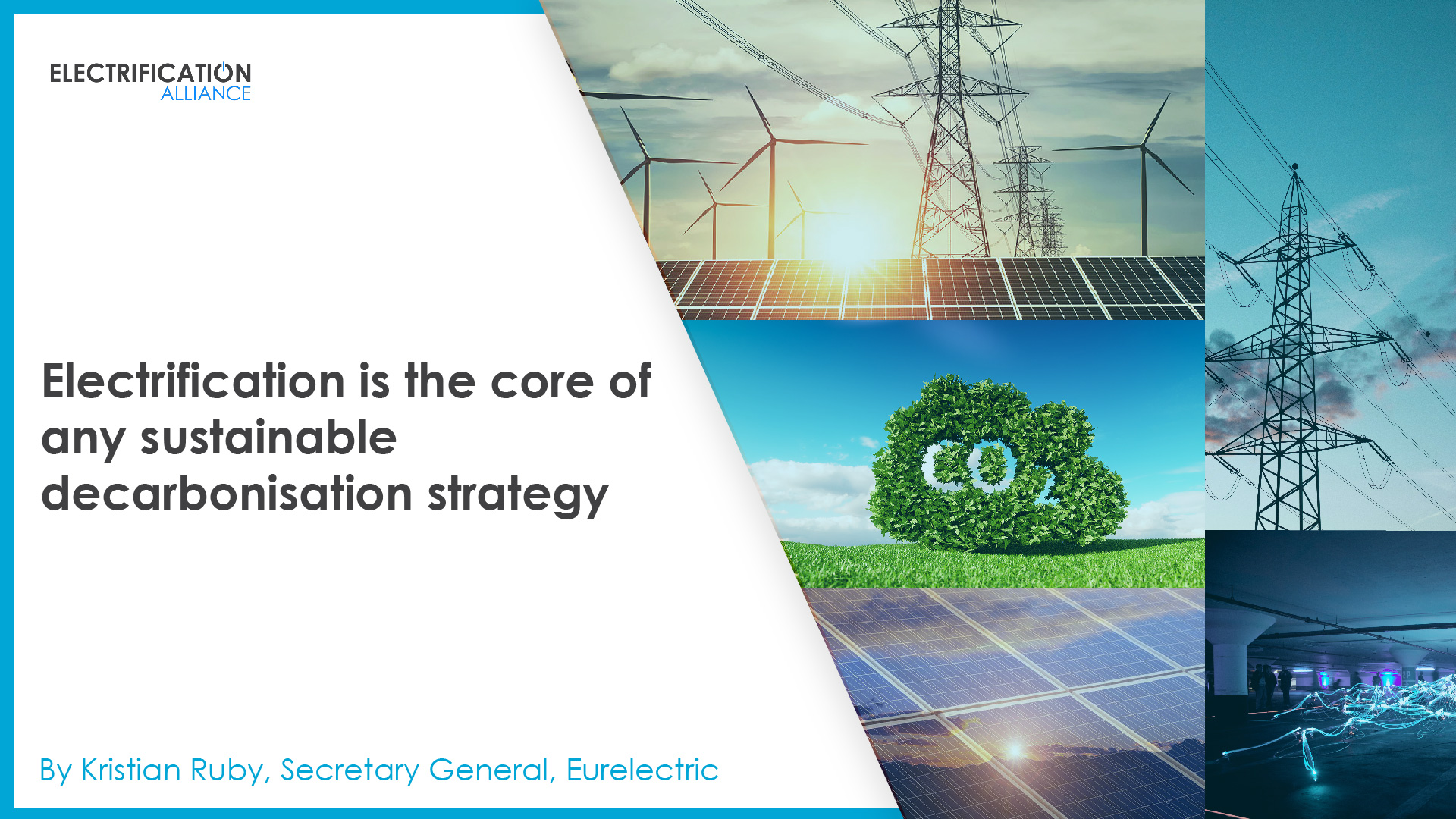 By Kristian Ruby, Secretary General, Eurelectric
Climate change has set a hard deadline for transforming the way we produce and use energy. And the IPCC headline "Code red for humanity" highlighted the urgency to act. From the Paris Agreement to Glasgow's COP26 the calls to accelerate the energy transition have increased.
The European power sector is leading the energy transition, with electricity being the cleanest energy carrier already. In 2020, two-thirds of the EU's electricity came from clean and renewable sources including solar, wind, hydro, biomass and nuclear.
The electric decade is unfolding. Eurelectric's Power Barometer 2021 foresees 85% of EU electricity will be carbon free by 2030, up from 66% today. This is a huge transformation effort for which we will need to accelerate the deployment of renewable energy – bringing an additional 500GW online. In other words: than doubling wind and solar capacity.The stakes are high. But the granting of permissions is not yet aligned with the level of ambition. Lengthy permitting procedures remain a key barrier to the deployment of renewables, oftentimes delaying constructions by up to eight years. Guidelines and sharing of best practice are welcome initiatives, but we need step change in order to address this barrier properly.
All tech in deck
To balance the system, we will continue to rely on a fleet of low or carbon neutral plants while picking up the pace on the development of storage capacities. Right now, we are 53GW short of realising the Commission's energy storage benchmark for 2030. By closing this gap, the EU could fully benefit round the clock from those sources that are stochastic by nature.
We must solve the issues on the clean generation side, as electrification offers the most effective way to cut CO2 emissions from end-use sectors such as heating and cooling, transport and industrial applications. And the benefits don't stop there: electrification would also improve air quality, strengthen energy efficiency, reduce dependence on fossil fuel imports and create jobs. The good news is that the Fit for 55 package acknowledges these benefits and presents electrification as a central pillar of its decarbonisation strategy.
The Commission predicts that the share of electricity in final energy use will jump from 23 % today to 30% by 2030 and 50% by 2050. However, a technical potential to electrify faster and deeper remains untapped. An electrification rate of 38% by 2030 is technically possible. And the good news is that the policy proposals mean we could actually do it. To get there we need to promote direct electrification and eliminate discriminatory taxes that are a stumbling block for the electric decade. This is a key solution to reduce prices for end-use consumers, as they represent around 40% of the electricity bill.
On top of this we will need to speed-up infrastructure developments. To achieve the EU's 2030 decarbonisation ambition for transport, 60% of new sales must be electric, so there will have to be an exponential increase in available charging infrastructure to support them.
A final crucial action will be to reinforce and modernise our aging distribution grids. Modern, smart, digital technologies would help us to manage the increasingly decentralised power system and the massive penetration of electric vehicles and heat pumps. Distribution grids are the backbone of a clean electricity system – they not only help to meet decarbonisation targets and ensure security of supply, but also place business and domestic customers centre stage.
Fit for 55 is a clear signal that Europe is moving from pledges to action. By approving it swiftly we can eliminate some key roadblocks to electrification and take substantial strides towards climate neutrality.
The Electrification Alliance's event on the morning of November 17 presents the perfect forum to discuss the best policy approaches. Join top-level policymakers, CEOs of leading energy companies in Europe and us and our partners in the Alliance to define the way we can Electrify Now!